English as a Second Language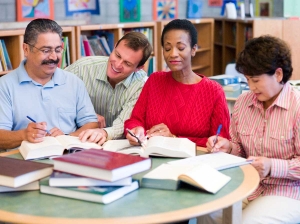 Multi-Service Center's ESL program is for adults who did not grow up speaking English and who want assistance with learning the language. Students are taught in small classes of fewer than 10 students. Course material is geared to the individual student need. Many students learn English for use in daily life, such as speaking with their doctor, asking for help at the grocery store, or communicating on the job or with a child's teacher.
MSC assesses students using the Comprehensive Adult Student Assessment System (CASAS) to determine each person's English language level. Then the student is placed in an appropriate class.
To get more information about our ESL program, contact our education department at 253.838.6810 or by e-mail.
"I was so excited and happy to find this English class. This class has been very helpful to me. Gradually, I am feeling more comfortable talking with people and more confident. Although my pronunciation is not perfect, I feel okay with it. I want to say thanks to the Multi-Service Center. You mean a great deal to others and myself."
"I studied English at different classes when I lived in Ukraine. There, I studied grammar but I did not practice conversation. I think this Multi-Service Center class is very useful and helpful. We talk a lot, discuss some problems, learn pronunciation, read newspapers, and can always ask any questions. Our teacher Amanda is always ready to help us."
Classes
(please contact our education department via e-mail or call 253.838.6810 for an intake interview and placement in a class)
Mondays and Thursdays, 9:30-11am
Firwood Circle, 313 37th St. SE, Auburn
Tuesdays and Thursdays, 1-4pm
MSC Federal Way Offices