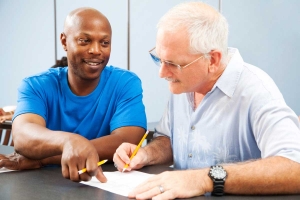 It is estimated that 1 in 7 people in Washington are functionally illiterate, meaning that they are unable to read, write or comprehend at the expected level required to function in daily life. In Multi-Service Center's Adult Basic Education program, adults 18 years and older work with a tutor to gain lifelong learning skills. Some of these students may have dropped out of school or may have been pushed through school without gaining the necessary skills.
In MSC's program, students set their own goals, and then work one-on-one with volunteer tutors to reach these goals. The reasons for seeking help vary with each individual. Some students want to be able to read to their children; some want to brush up on particular skills so they can take the GED. Each adult has goals based on their own awareness of how their low skills have affected their daily lives.
The important thing is that MSC's program is custom-tailored for the individual. Each student receives an initial assessment so tutors have a general idea of where to begin. Instruction is offered in a relaxed and supportive environment geared to helping the student succeed.
Contact our education department for more information by phone at 253.838.6810 or by e-mail.
Multi-Service Center is an equal opportunity employer/program. Auxiliary aids and services are available upon request to individuals with disabilities. Washington Relay 711.