The History of Multi-Service Center
Few human services organizations existed in South King County in the 1960s and early 1970s. Those that did were scattered across a wide geographic area, making it difficult for people in need to access help. Several Federal Way residents created a solution.
Their vision was a kind of one-stop umbrella organization that would house multiple services in one place. Fueled by a grant from the Seattle King County Economic Opportunity Board they formed the South King County Multi-Service Center (now called Multi-Service Center), which opened its doors in August 1971 to low-income families.
Multi-Service Center (MSC) was one of many grassroots agencies called Community Action Agencies that arose throughout the country during the decade after President Lynden Johnson declared "War on Poverty." Multi-Service Center is one of nearly 1,000 designated Community Action Agencies providing real solutions to poverty at the local level.
With this mission in mind, Multi-Service Center aimed to help people become as self-sufficient as possible, and offered services that met community needs as they arose. In the early days local residents could receive food stamps, credit counseling, child care, medical and dental services, education, employment security and counseling. Two years later, the agency started a public transportation service for the elderly and disabled (later called Dial-A-Ride).
Establishing Community Presence
In 1979, Multi-Service Center received a federal contract to offer home energy assistance, helping 232 households that first year keep their heat on in the coldest of months. That same year, MSC also added services to address domestic violence.
When homelessness increased in the 1980s, MSC leased motel rooms to offer emergency shelter to families in crisis. However, it didn't take long before staff learned that providing only a roof over one's head was not enough to foster independence. Adding case management support and accountability proved to be more successful at building stability. Additionally, the agency continued to develop more "wrap-around services" by adding an adult education component to programming.
Remaining open and flexible to other program opportunities as they presented themselves, the agency was awarded a contract in 1989, to operate the statewide Long-Term Care Ombudsman Program when it was first privatized by the State Legislature. Tasked with ensuring the rights and dignity of elderly and disabled adults living in long-term care facilities across Washington, the program fit snugly within MSC's mission to empower people, particularly those without resources to act on their behalf. The Long-Term Care Ombudsman program has successfully operated out of MSC since that time.
Late in the decade and into the 1990s, MSC committed more fully to housing individuals and families, first by leasing 15 former military houses in Kent for emergency family shelter, and then by starting a transitional housing program in downtown Kent. The agency also began to lease additional low-income housing units.
In 1994, MSC's domestic violence program opened its own shelter and stepped out from under the agency umbrella to form its own independent agency. Now known as DAWN (Domestic Abuse Women's Network), it is still a successful program today.
Stabilizing the Agency Leads to More Growth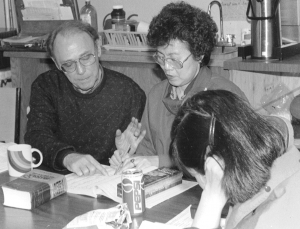 Financially floundering in 1995, and on the verge of collapse, MSC hired a new executive director, Dini Duclos, whose first order of business was to extricate the agency from debt.
Dial-A-Ride, which had grown so popular that demand exceeded funding, was returned to King County Metro (still in service today as Access). Freed from that financial burden, MSC began a capital campaign to purchase and renovate the former Federal Way Elks building. Today, this building serves as Multi-Service Center's headquarters.
Around this time, increased numbers of people turned to MSC's Federal Way Food Bank for help to feed their families. Fortunately, the addition of the agency's new onsite warehouse built a few years earlier allowed storage space for an increased supply of food. However, it became increasingly apparent that this spike in need revealed a need for additional services, particularly jobs and housing, to stem the growth of poverty.
MSC followed with an adult employment program that helped participants improve their job skills and find steady employment. Over the years the agency honed its employment program so that it has become a model replicated by other agencies. Employment assistance now extends to at-risk youth participants as well.
With sustainable housing particularly difficult to find in the late 1990s as Puget Sound real estate prices escalated, Multi-Service Center increased its affordable housing commitment. First, the agency purchased more transitional and permanent housing for individuals and families, and then followed with the construction of three apartment complexes for seniors of low to moderate incomes.
Now with more than 500 units of housing in its portfolio, Multi-Service Center remains a leader in bringing affordable housing options to both South King and Pierce Counties.
Looking Toward the Future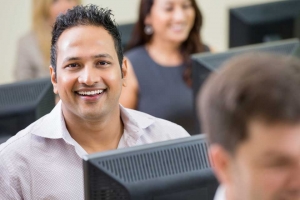 With more than 40 years' experience working with individuals who strive to make lasting change in their lives, Multi-Service Center continues to offer fresh and innovative resources that help people increase their self-sufficiency and stability. With programs in employment training (including paid internships), financial management, education, energy assistance, housing, food, clothing and advocacy for the elderly and disabled, Multi-Service Center remains committed to helping people become fully productive members of the community.
The more than 200 organizations and businesses that partner and collaborate with MSC not only extend the agency's reach in the community, but also bolster MSC's fulltime staff of 75 employees and its cadre of several hundred volunteers. Together, these partnerships allow more than 50,000 people a year to receive the help they need to build pathways out of poverty.
Today, Multi-Service Center looks to the future from a position of financial health, with a new $3 million program services building in Federal Way, plus additional offices in Kent and Burien. Longtime CEO Dini Duclos retired December 2011, leaving a fiscally strong agency with a solid reputation for meeting and exceeding outcomes while making a valuable impact on the communities it serves.
Robin Corak became CEO in 2012 after having been employed by Multi-Service Center for ten years, the prior two as Chief Operations Officer. Under Robin's tenure, MSC has continued to create and offer innovative programs to help individuals in South King County find self-sufficiency. In 2016, MSC's newest project, the William J. Wood Veteran House (WJW) opened. WJW provides housing for veterans and their families with onsite services.