We know the school year is ending for many kids this week, but it's not too early to start thinking about next year! Project Cool is collecting school and dental supplies now and all summer long to provide homeless children with school supplies next fall.
This year, Project Cool will be providing more than 1,400 homeless students with brand new backpacks full of school supplies, dental kits, and an Understanding Homeless Students Educational Rights guide. Project Cool serves students from all over King County who access services at  organizations like MSC. Project Cool means that students can go to school ready to learn on the first day without families having to worry about purchasing school supplies. Students truly appreciate the backpacks and enjoy having their own brand new items to use throughout the year. One of the postcards that a student filled out upon receiving their backpack last year says, "I really like my new backpack – the ruler and my backpack are blue – my favorite color!  I am going to meet a lot of new kids at school, it will be fun. Science is one of my favorite things to learn about in class."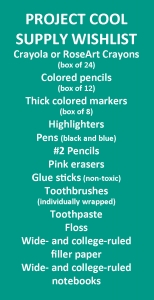 MSC is collecting pencils for Project Cool; however, any Project Cool donations can be dropped off during regular business hours at our Kent or Federal Way offices:
MSC Kent: 515 W. Harrison St. #205, Kent, WA 98032 
MSC Federal Way: 1200 S. 336th St., Federal Way, WA 98003  
Please visit the Project Cool website for more information or for a sample letter to request a donation from your dentist.